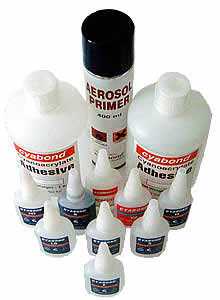 Cyabond® products can be divided into the following families :
• Cyanoacrylates
Cyanoacrylates cure by the alkalinity of the surface, or by the moisture present on the surface and in the air. In order to obtain a high cure speed and high strength, the gap between the mating surfaces must be as small as possible. Cyanoacrylates can be used to bond nearly all materials except glass, and are ideal to bond small parts.
• MDF Profile and Cornice Bonding Set
Cyabond® MDF Profile and Cornice Bonding Set consists of a very high viscosity cyanoacrylate adhesive and an accelerator. It is specially formulated to ensure fast and reliable bonding of the 45° angled profile and cornice joints.
• Anaerobics
Anaerobics cure in the absence of oxygen, and the presence of metal contact. Anaerobics are used in industry as threadlockers, sealants and retaining compounds.
• Structural Acrylics
Cyabond® 's structural acrylics cure at room temperature, either by a liquid activator, or by mixing the two components having similar viscosities. They combine high impact resistance, with increased gap fill and excellent environmental resistance. Cyabond® 's structural acrylics are ideal for bonding large structural parts.
• UV / Visible Light Curing Adhesives
These adhesives cure instantly when exposed to UV or visible light. The cure speed depends on the wave-length and intensity of the light. Of course, in order for the light to reach the adhesive layer, at least one of the adherends must be transparent. They are used extensively for bonding glass and transparent plastic parts.
• Special Products
This range consists of adhesives, coating / potting compounds and solvents developped for specific applications.
• Applicators
Following the selection of the proper Cyabond® adhesive, we will then help you determine how the adhesive will best integrate into the final product assembly process.
Cyabond® 's full line of dispensing equipment ranges from standard valves and pressure vessels, to complete turnkey equipment solutions.