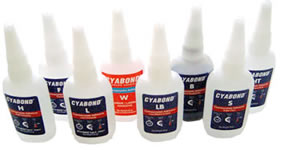 This section summarizes the information you need in order to get the highest performance from Cyabond® adhesives :
· Surface Preparation
The main factor influencing the final strength of adhesive bonding, is the adhesion force, i.e. valence forces and interlocking action that hold two substrates together. The adhesion force can only be increased by suitable surface preparation.
· Temperature Effects
The main environmental factor that influences the shelf life, cure speed and long-term performance of an adhesive, is the temperature. Good understanding and control of the temperature, will dramatically contribute to the success of your application.
· Shelf Life and Storage
By respecting the specified storage conditions for your adhesive, you can decrease your adhesive consumption, and ensure that your adhesive will provide its best performance until its expiry date.
· Glossary
This glossary provides you the explanation of adhesive engineering terminology that you may come across during your research on adhesives.
· MSDS & TDS
The MSDS and TDS must be consulted in order to determine the suitability of an adhesive to your specific application; as well as its potential dangers for the work place safety / workers health and environment.