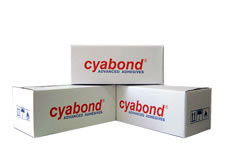 Quality Assurance
In January 2002 Cyabond® was awarded the new BS EN ISO 9001: 2000 Certificate. This supersedes its existing ISO 9002:1994 accreditation.
This demonstrates that Cyabond® is committed to providing its customers with the best products possible through Total Quality Management.
Product Development and Customer Satisfaction have always been our top priorities - and this new quality system cements this commitment.
The standard also covers all aspects of operation from purity of raw materials, through manufacture and rigorous testing, to the delivery of a first class product.
Total Quality Management backed by internationally recognized certification gives our customers assurance they can trust.
Testing
All adhesives leaving our facilities have been through our intensive quality control system.
Each batch has been thoroughly tested to meet the highest standards.
Individual formulations which have been developed specifically for customers, are subject to the same rigorous testing.
Research and Development
Cyabond® has invested in a state-of-the-art Research and Development laboratory at its plant in Izmir, Turkey.
Facilities allow for the development of customised products to individual requirements.

All adhesives are subject to advanced analytical techniques and scientific materials testing.
Certificates of performance are provided with all shipments.